Get a Low Rate Mortgage in Windsor
Located in Windsor, but service across all of Ontario!
Home Mortgage Ontario is a part of The Mortgage Centre office located in the Remo Valente Real Estate building at 2985 Dougall Avenue in Windsor, Ontario. While I can come meet you at your home or at the office in the Windsor and Essex County area in municipalities such as Tecumseh, Belle River, Essex, LaSalle, Amherstburg, Kingsville, and Leamington, we also assist clients from all over Ontario as they look to find the best mortgage rate for their home financing needs.
---
View Larger Map
---
How mortgage brokers help you get a better deal on rate and service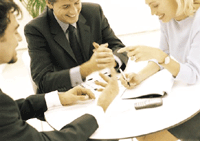 Lately, you've probably been hearing a lot of your friends and co-workers talking about getting their mortgages through a mortgage agent or broker. What's led to this rapid rise in the popularity of leaving the big banks like Bank of Montreal (BMO), CIBC, Royal Bank (RBC), Toronto Dominion (TD), Scotia? A lot of things.
More lenders are now offering a wider range of mortgages to choose from. Consumers have begun to shop around for their mortgage rather than simply taking what their financial institution offers, which is typically a higher rate. Lenders have started advertising discounted rates, making it obvious that there's a good reason to shop around.
More mortgage seekers won't pay the big bank premium
With all the resources and tools available on the internet, home loan shoppers are now more aware than ever of how costly a small increase in rate can cause a significant increase in interest costs over the term of a mortgage. When dealing with borrowing large amounts of money, increasing interest rates by a fraction of a percent can equate to tens of thousands of dollars in extra interest costs.
The big 5 Canadian banks have your trust, but why?
Spending millions in marketing through television commercials, constantly renovating banks to look modern and professional, and paying bank employees a salary regardless of performance are all huge factors in why the big banks are forced to pass on the expense to the consumer. The huge marketing expenditures of our financial institutions give clients a sense of trust and comfort, especially when making important decisions like purchasing a home.
Number of Big Bank Branches in Windsor and Essex County
BMO
CIBC
RBC
Scotia
TD
12
19
15
11
21

With 78 financial institutions in the Windsor and Essex County region owned by the same five Canadian banks, it becomes clear as to why higher interest rates on mortgages and other lending products are the norm. Be sure to explore other options!
How can a mortgage agent offer a lower rate than banks?
Banking service charges, hidden fees, and charging borrowers a premium through higher interest rates are some of the methods the big banks use to recover their huge overhead costs. On the other hand, mortgage brokers and agents have much lower overhead costs and have access to all lenders in Ontario to do the shopping for you. We are paid through a finders fee or commission when a mortgage is arranged and thus lenders can offer a much lower rate than posted rates at the local bank.
Advantages to Using a Mortgage Broker:
But the biggest reason for the increasing reliance on mortgage brokers is that brokers offer consumers several important advantages:
Independent, unbiased advice. Mortgage brokers provide mortgages from various lenders, so they're not tied to one lender or one type of mortgage.
More mortgage choices. Mortgage brokers have direct electronic access to virtually every major lender in Canada, so they can show you a wide range of rates and features.
Best-available rates. Mortgage brokers study rates daily and always know where to find the most competitive ones. Plus they know how to negotiate with lenders to ensure you're getting the best available deal.
Fast, convenient local service. Mortgage brokers are highly motivated to keep your mortgage moving forward quickly because they only get paid—by the lender—when your mortgage is complete.
Specialized knowledge. As specialists, mortgage brokers have a thorough understanding of all available products, features and rates. And they can explain everything to you so you know exactly what you're getting into.
Secure, established lenders. Mortgage brokers deal with the same reputable, established Canadian financial institutions you're used to. Plus, they have access to some innovative broker—only lenders who offer even more attractive rates and features.
FREE to the borrower! Best of all, we do all the work comparing rates and lenders for you without costing you a penny! Contact us to learn more!
The Mortgage Centre became Canada's first national mortgage broker organization in 1989. As a licensed mortgage broker, your local Mortgage Centre Specialist is fully qualified to provide you with all of these benefits.
Plus, we have roots in the Windsor and Essex County community and are familiar with the surrounding areas of Tecumseh, Belle River, LaSalle, Amherstburg, Harrow, Leamington, and Kingsville. We have a deep understanding of our local market and are always researching to be on top of the other Ontario markets including London, Kitchener-Waterloo, Toronto, Durham, Ottawa, Thunder Bay and more!
Drop us a line or give us a call today! Also, feel free to use our online application to determine how much you can afford and what products make sense for you and your family.