How to Get a Mortgage in Ontario
The Ontario Mortgage Process Video Series
If you are a First Time Home Buyer or interested in selling your current home to purchase another, you will want to watch this series of short videos that help explain the Ontario Mortgage Financing Process.
Steps to Get a Mortgage in Ontario
---
Step 1 – How to Get a Mortgage
How to Apply for an Ontario Mortgage Preapproval
The first step when purchasing a home is to get pre-approved from a mortgage broker or bank, such as Hussein Saad from your Ontario Mortgage Brokers at Mortgage Centre. I can personally have your pre-approval sent to you via email within one business day and best of all – this can be done from across the province!
To get pre-approved for an Ontario Mortgage through our website, simply click on the Apply Online button and fill-out the secure form for review.
Once your application is reviewed and any additional questions have been answered, you will receive your pre-approval typically within one business day!
Sample Pre-Approval Letter
Check out a sample pre-approval letter below to give you an idea of what it may look like:
Details on a Mortgage Pre-Approval Letter
While pre-approval letters may look different from lender to lender, they typically have the following information on them:
Maximum Mortgage Amount
Maximum Interest Rate
Pre-Approval Expiry Date
Other Pre-Approval Considerations
It is important to note that a pre-approval is simply a document that indicates what maximum mortgage amount you can afford based on the information you have provided in the application. If your details change or were not accurate when you applied, then this could change the mortgage amount on the pre-approval letter.
It is important to always make your Offer to Purchase Conditional on Financing to protect yourself from any issues that may arise when you follow up with the lender for a formal mortgage commitment letter.
---
Step 2 – How to Get a Mortgage Commitment Letter in Ontario
OREA Agreement of Purchase and Sale and MLS Listing
Submitting an Offer to Purchase
Once you find that perfect home, it is time for you to submit an Offer to Purchase using an Ontario Real Estate Association (OREA) Agreement of Purchase and Sale form. Your realtor will provide you with the necessary forms and guide you through the process. Below is a sample Agreement of Purchase and Sale Form for your information: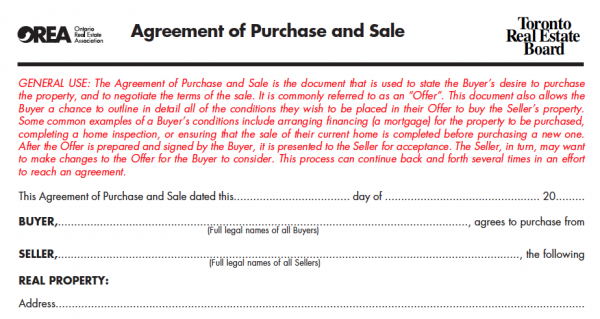 Once you and the seller have agreed on terms and both parties have signed the OREA Agreement of Purchase and Sale, your realtor can then send the signed agreement via email or fax to Hussein Saad here at Mortgage Centre so a formal commitment letter can be requested from the lender.
At this time, the lender will then provide a commitment letter with more details pertaining to the property you would like to purchase as well as conditions you must satisfy.
Multiple Listings Service (MLS) Listing
Along with the signed Offer to Purchase, your realtor should also send on the MLS Listing for the home you have agreed to purchase. This will help me send the lender as much specific detail about your property as possible and can speed up the process. A sample MLS Listing is below: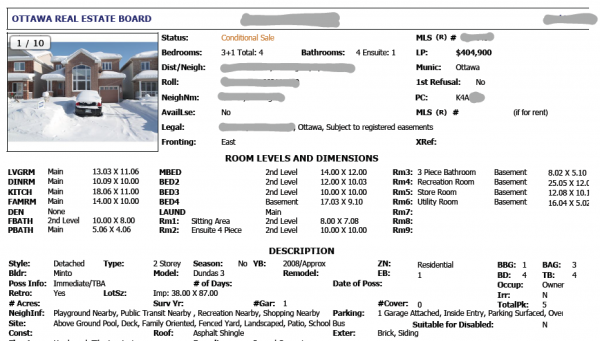 A formal mortgage commitment letter can typically be received within a couple business days. We suggest making your offer to purchase conditional on financing for a minimum of 5 business days to be safe.
---
Step 3 – Your Ontario Mortgage Commitment Letter
Breaking Down Your Commitment Letter and Mortgage Contract
Mortgage commitment letters are typically the contract that you are tentatively agreeing to so you have a full understanding of what the terms of your Ontario mortgage before you sign the official documents on Closing Day at your lawyer's office.
On a commitment letter are items such as:
Your mortgage amount, payment and frequency of payments,
Conditions that must be met before closing day,
Terms of your mortgage contract such as pre-payment privileges and penalties,
Details such as portability, transferring and assuming the mortgage,
An area for you to write your lawyer contact details,
Preauthorized Debit Form for automatic withdrawals from your bank account,
And many more.
A mortgage commitment letter is very important to read in its entirety, as every detail of your mortgage is included. Be sure to ask questions if there is any wording you do not understand – that is what we're here for!
---
Step 4 – Mortgage Documentation Required
Mortgage Requirements for Ontario Residential Financing
While every lender can have their own requirements when it comes to documentation, most require the following for hourly and salary workers in Ontario:
Signed commitment letter by a specific date prior to closing,
Proof of downpayment (3 Months Bank Statements, Gift Letter, Etc.),
Employment letter confirming your income as a permanent employee,
Recent pay stub, and
Void cheque for automatic payment withdrawals from your account.
While this documentation can vary from lender to lender as well as for self-employed, commission and other types of remuneration methods, the documentation above is quite common across the Ontario mortgage industry.
Questions? Be sure to ASK!
I hope you found this post useful as you plan to make a home purchase requiring an Ontario mortgage. I am here to assist you in any way possible, so please do not hesitate to email or call me using the contact form below: